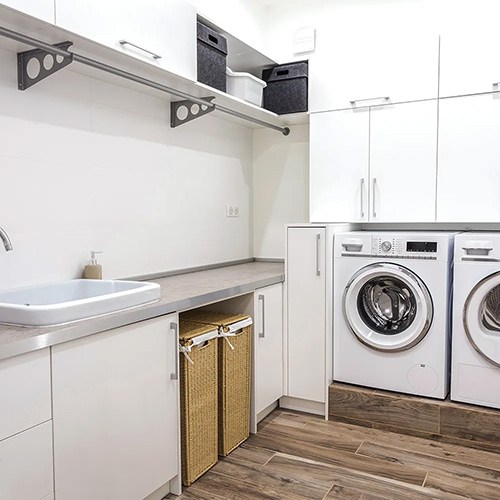 Laundry room plumbing problems can be a real hassle. There's more plumbing in a laundry room than just a sink and washing machine water lines. Our expert technicians can handle frozen pipes, washer and dryer installation, drain clearing, leaks, and sink repair and installation.

Drain Clearing
If the floor drain in your laundry room is clogged or backing up, don't wait to call in a professional. Our team of licensed plumbers has the skills and equipment needed to diagnose the source and remove a clog.
Washer and Dryer Installation
Who better install your new washer and dryer than an insured plumber? Appliance delivery drivers aren't usually licensed plumbers. They are trained in basic installation but don't have the skill or knowledge to deal with anything out of the ordinary. When working with water and gas lines, it's important to hire a licensed plumber with the right training.
Frozen Pipes
Frozen pipes are all too common during Chicago winters. If your laundry room doesn't get enough heat or pipes are in an outside wall, your pipes are susceptible to freezing, leading to a burst, which can be catastrophic. Thankfully, you can turn to us to thaw frozen water lines anytime – day or night.
Leaks
Our plumbing services are comprehensive, and we routinely repair leaking pipes and faucets. No matter if it's a crack or a loose part, our plumbers will work to have the problem fixed efficiently.
Sinks
Laundry sinks are common in most laundry rooms and will require repair from time to time. Whether it's a leaking sink, low water pressure, or a clog, our skilled technicians will thoroughly investigate and fix the issue.
Capps Laundry Room Services
Laundry/Utility Sink Installation and Repair
Pressure Restoration
Tier and Isolation Valves
Washing Machine Valves
Water & Drain Piping