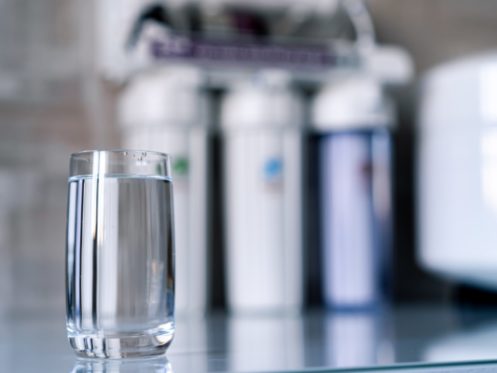 Well, water is something my family has struggled with since we moved into our house in Long Grove, IL. Like most townhomes, my family lives in a house that pulls water from a well. And for some time, we lived with some of the common complaints of using well water. I think our family's number one dislike was that the water smelled like rotten eggs. The odor was caused by hydrogen sulfide and was just strong enough to be annoying. Every night before going to bed it was a bit of a nightmare gurgling with the egg odor of water before going to bed.
This started us on a journey of ways we could improve our home water. There are a lot of solutions to choose from and a lot depends upon your goals. For us, we wanted to take the route of improving all the water throughout the house. From using water in the bathrooms to cooking with it in our kitchen. For us, the goal was high-quality water from any place in the house and that meant a whole house system. Our first step in the process was researching chlorination systems. A few of our neighbors have chlorination systems and expressed that they have worked for their homes.
But we wanted to be exhaustive in our research and so we also explored hydrogen peroxide systems too. However, in the end, we landed on a reverse osmosis system because it gave us a chemical-free way to improve our water quality. Reverse osmosis works by pushing water through a permeable membrane to separate icons, unwanted molecules, and larger particles from drinking water. Here is the Wikipedia overview on reverse osmosis if you are interested. As you might imagine, we spent a lot of time researching and designing our reverse osmosis system:
Understand every component that comprises a reverse osmosis system.
Select quality components.
Get the best return on investment.
The research and design of the system were fun. Part of the process was creating a design on paper and then purchasing the equipment. With everything purchased and sitting in my basement, I realized this was no weekend warrior project. I called upon a few plumbing companies and received quotes that communicated a low level of confidence. It seemed there were not a lot of plumbing companies out there with experience installing the whole house reverse osmosis systems.
Things turned around with a call to Capps Plumbing & Sewer. Anthony came out to discuss the system we wanted to have installed and we must have talked for about 45 minutes. If you get the opportunity to talk with Anthony have him tell you about his trips to Italy. He had me laughing. The comment that won the deal was, "Sam, it's just plumbing. I know we can do this for you." That's the confidence I was looking for in choosing Capps Plumbing & Sewer.
Two technicians from Capps Plumbing & Sewer spent three days installing, testing and tuning the system. The team of Todd and Austin were professional, down-to-earth, and just as interested as I was in making this reverse osmosis system work. Here is why Todd and Austin did a good job:
They worked with us on the design of the system. Any ideas or changes were discussed with us, so we felt comfortable with the reverse osmosis system.
They read the product manuals and even call the product companies. This went miles towards ensuring every part of the system was installed per the product guidelines.
They tested, retested, and fine-tuned the reverse osmosis system. When Todd and Austin left everything just worked!
From start to finish it took three solid days to get the system installed and running. That's because I designed my reverse osmosis system. There are plenty of whole-home systems that offer much more integration thus, reducing the amount of labor. Throughout the entire process, Anthony worked with us and even came out to check on the progress of the system. If you are looking for a plumbing company that has experience with reverse osmosis systems give Capps Plumbing & Sewer a call.
So how is our water quality today? We ordered a water test kit from Tap Score and the results show our water health is very good, the aesthetics are good, and the plumbing is very good. Our overall Tap Score was 85 out of 100 with the average tap score around the area of 78. The rotten egg smell is gone too!